In Formula 1 racing, winning is everything. A star driver is paramount, of course, but the technology that underpins the simulation environment and the real-time analysis of racing conditions in the car and on the track is also pivotal.
For example, getting the right cluster technology for the simulation of cars is crucial to powerful design.
"It gives us our competitive edge," says Bill Peters, head of IT for the Caterham F1 Team. "On race day, we're entirely reliant on our trackside IT environment and support. Quite simply, if our IT fails, we can't race."
Trackside computing gets intense
The Caterham F1 Team has all the elements covered, with a cluster environment that simulates aerodynamics in the car design environment and a robust, high-performing infrastructure that copes with the demands of trackside conditions. These include issues such as the vibration of the ground when a car starts up, and laptops that can withstand temperatures in hot, dusty environments, such as in Abu Dhabi.
Performance and stability are essential because laptops and workstations process more than 2 gigabytes of data each lap from cars on the track.
"We need excellent communication within the team, plus a lot of storage and powerful systems to handle our data," Peters says. Inside the cars, touch-screen functionality enables drivers to get the data they need for optimum speed.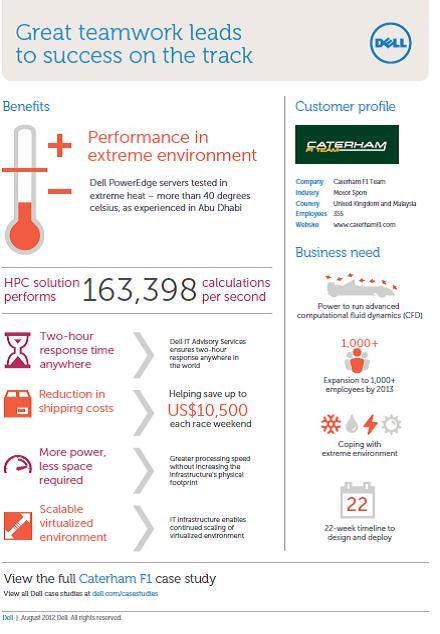 Tech support in overdrive
Dell servers and storage underpin Caterham's entire F1 design and trackside infrastructure. The flexibility of the technology was an important factor — the Dell team refines and raises temperature and performance thresholds to meet requirements — and it saves Caterham from dealing with a bunch of unnecessary alerts in the high-pressure environment.
To learn more about the benefits and technology behind Dell's F1 solution, you can read a Caterham F1 case study. Also, here's a video of Caterham and Dell partnership in action:

Kathy Mahady is part of the Dell Customer Engagement Team, where she's responsible for capturing and publishing great end-to-end solutions stories that showcase how IT is empowering giving customers. Kathy graduated from the University of West of England Business School and has been in the IT industry for over 17 years. She's worked for Computacenter and Acer and has occupied various roles at Dell for the past 10 years. She is married, lives in Ireland, and is a huge sports and rugby fan.
Tags:
Data Center
,
Storage
,
Technology